Breaking News!!!
Stolen paintings recovered in Brazil
1/8/2008 10:00:29 PM
SAO PAULO, Brazil - Police recovered paintings by Pablo Picasso and Candido Portinari worth millions of dollars stolen last month from Brazil's leading modern art museum and have two suspects in custody, officials said Tuesday.
ADVERTISEMENT
The painting were found undamaged and covered in plastic, leaning against a wall inside a house on the outskirst of Sao Paulo after one of the suspects led authorities to the home, said Mauricio Lemos Freire, the city's chief police inspector.
At a press conference late Tuesday, police exhibited the paintings &emdash; Picasso's "Portrait of Suzanne Bloch" and Portinari's "O Lavrador de Cafe" &emdash; while two guards armed with assault rifles, pistols and bulletproof vests stood by. Portinari is one of Brazil's most influential artists.
Julio Neves, president of the Sao Paulo Museum of Art, said the paintings are "in absolutely perfect condition," and will be put on exhibition on Friday &emdash; the date of the museum's reopening. He said the paintings will hang in the same spots as before their theft on Dec. 20 by robbers armed only with a crowbar and a car jack.
"The museum is upgrading and improving its security system to prevent this kind of thing from happening again," Neves said, without elaborating.
Art experts estimate the value of the Picasso at about $50 million and the Portinari at $5-6 million.
Picasso painted "Portrait of Suzanne Bloch" in 1904 during his Blue Period. "O Lavrador de Cafe," which depicts a coffee picker, was painted in 1939 and is one of Portinari's most renowned works. Portinari (1903-1962) was a practitioner of the "neo-realism" style.
The two suspects in custody &emdash; Francisco Laerton Lopes de Lima and Robson de Jesus Jordao &emdash; have criminal records and took part in the theft at the Sao Paulo Museum of Art, Freire said. One of the men was arrested on Dec. 27 and the other on Tuesday.
Police said they would not reveal how they captured the two men because other suspects remain at large and providing details could jeopardize the ongoing investigation.
"It's obvious the two did not steal the paintings for themselves," Freire said. "They did it for someone else. The focus of the investigation now is to find out for whom."
The thieves broke into the museum just before dawn Dec. 20 as guards were changing shifts. Hazy images from a security camera showed three men using a car jack to squeeze inside a metal security gate, then smashing through two glass doors and running to the museum's top floor to grab the two framed paintings from different rooms.
The museum's security system had only a few cameras and guards patrolling the building's interior were unarmed. There were no alarms or movement sensors.
More than 69 people were questioned in the police investigation, authorities said.
The thieves ignored other important works in the Sao Paulo museum, including Pierre-Auguste Renoir's "Bather with a Griffon Dog," Vincent Van Gogh's "L'Arlesienne" and Henri Matisse's "Plaster Torso and Bouquet of Flowers." Instead they homed in on just the two paintings.
Local newspaper Folha de S. Paulo reported the museum's collection is worth more than $1 billion.
Earlier Tuesday, officials discussed ways to help the museum financially. Authorities said the museum may be eligible for about $4.5 million in funding from a law that promotes fiscal incentives to institutions that invest in culture.
Art thieves hit Brazil last year, when a gang used a carnival street parade to cover the theft of four paintings from a Rio de Janeiro art museum. Those works, valued at around $40 million, have never been recovered.
___
Associated Press Writer Tales Azzoni in Sao Paulo contributed to this report.
Salvador Dali's exhibition of 48 paintings taking place for first time in Siberia
11/30/2006 5:23:29 PM
Barnaul, the Altai Territory (RIA Novosti) - 48 works by Salvador Dali are on exhibition in the State Art Museum of the Altai Territory these days, RIA Novosti news agency reported. Such an exhibition of Spanish surrealist painter is taking place in Siberia for the first time.
The Spanish painter's works belong to a Chelyabinsk private collector Alexander Shadrin, who owns the biggest Dali's collection in Russia.
Shadrin said to reporters at the press conference on the exhibition opening he had managed to buy out Salvador Dali's paintings. According to him, he had been having talks with two biggest owners of Salvador Dali's heritage &endash; Spanish Fund "Gala Dali" and Paris Fund "Dali World" to organize the exhibition of parts of their collections in Russia. However, he failed to reach an agreement with them.
Shadrin stated insurance companies refused to insure paintings to be transported to Russia after the Hermitage scandal. After that the Chelyabinsk collector decided to pay and make his private Dali's collection. However, he would not say ho much he had spent on that.
The collection consists of bronze sculptures, graphics, tapestry made in Dali's typical manner.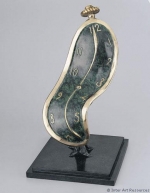 Museum workers said the exhibition was visited by about 1,000 people within the first two days of the exhibition. Visitors are mostly attracted by the melted watch sculpture "Dance of Time". Moreover, a study of Dali's secrets hidden in some of his works was also presented in the Altai Museum.
Permanent news address: http://english.newslab.ru/news/207409
For More Art News Go to the News Room.
Welcome to my Gallery
As a student of the arts, a father, teacher, husband, and over all nice guy, I give you this web site as my tribute to the great artist who coined the phrase "The only difference between a madman and me is that... I AM NOT MAD!" Salvador Dali (1904-1989). Dali is known as a leader of Surrealism and associated with Spanish modernist as Federico Garcia Lorca and Luis Bunuel. His early work was influenced by the Italian futurists and by the metaphysical paintings of Giorgio de Chirico. Dali pointed to his Catalan sense of Fantasy and his Megalomania as his true driving motivational forces.
My Hobby, My Collection
My name is George Bailey, I live in Central Florida (the Space Coast). I was first introduced to the works of Salvador Dali during the summer of 1989, shortly after high school graduation. A friend of my sister named Julia had a huge book covering the complete works of Dali. When I first saw the book you can say that I was mesmerised. While growing up, I remember times when I've seen pictures of soft watches, and one Sunday afternoon watching a the Alfred Hitchcock movie Spellbound starring Gregory Peck there was a dream sequence that screamed Dali. When your a child if an adult doesn't take the time to teach, you chances are you won't take the initiative to learn more about the arts, I just thought it was kind of cool. Over the past decade I have travelled from New Orleans to Toronto, then down through Central Florida in search of memorabilia and prints of one of the worlds greatest artist. Friends, please take a tour through my Virtual Online Gallery. When done please visit my Family Links below and related sites. I'm always open for suggestions. Don't forget to give Bailey's Popcorn Cafe a tour and order a personalized gift basket . New Chat room is a Java Applet so you will need a web browser that is Java compatible (sorry web TV :-(