The following images are dedicated to the birthplace of Salvador Dali's creativity,
the coastal fishing village of Cadeques Spain, where Dali had his first studio as a lad.
There are also Spanish themes and short essays to help you to learn more about Salvador Dali.
Please feel free to sign my guestbook or post your favorite Dali story, even trade images in my Salvador Dali Chat Room.
---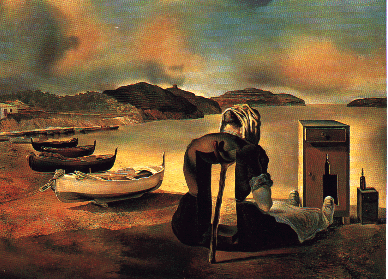 The Weaning of Furniture - Nutrition (1934)

---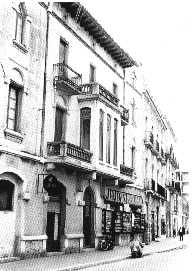 Dali's Birthplace 10 Monturiol Street, Figures, Spain
Salvador Felipe Jacinto Dali i Domenech was born at 8:45 on the morning of
May 11, 1904, in the small agricultural town of Figueres, Spain, in the
foothills of the Pyrenees, only sixteen miles from the French border in the
principality of Catalonia. The son of a prosperous notary, he spent his
boyhood in Figueres and at the family's summer home in the coastal fishing
village of Cadaques where his parents built his first studio. As an adult,
he made his home with his wife Gala in nearby Port Lligat.

The young Dali attended the San Fernando Academy of Fine Arts in Madrid.
Early recognition of Dali's talent came with his first one-man show, held in
Barcelona in 1925. He became internationally known when three of his
paintings, including the Basket of Bread (now in the Salvador Dali
Collection) were shown in the third annual Carnegie International Exhibition
in Pittsburgh in 1928.
The following year Dali held his first one-man show in Paris. He also joined
the Paris Surrealist Group, led by former Dadaist, Andre Breton. That year
Dali met Gala Eluard when she visited him in Cadaques with her husband, poet
Paul Eluard. She became Dali's lover, muse, business manager, and chief
inspiration.
Dali soon became a leader of the Surrealist Movement. His painting,
Persistence of Memory (1931), is still one of the best known surrealist
works. But, as war approached, the apolitical Dali clashed with the
Surrealists and was expelled from the Surrealist movement during a "trial"
in 1934. He did, however, exhibit works in international surrealist
exhibitions throughout the decade.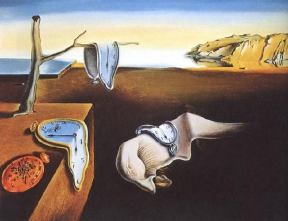 The Persistence of Memory, 1931
By 1940 Dali was moving into a new style which eventually became known as
his "classic" period, demonstrating a preoccupation with science and religion.
Dali and Gala escaped from Europe during World War II, spending 1940-48 in
the United States. These were very important years for the artist. The
Museum of Modern Art in New York gave Dali his first major retrospective
exhibit in 1941. This was followed in 1942 by the publication of Dali's
autobiography, The Secret Life of Salvador Dali.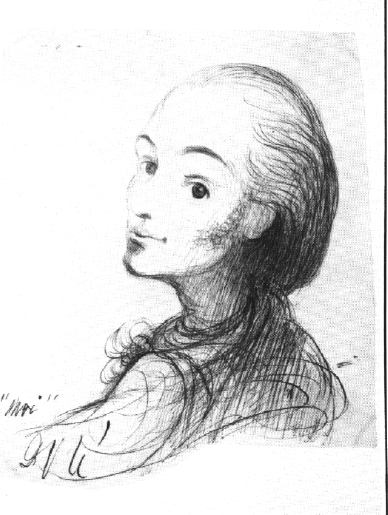 Pencil Drawing for The Secret Life of Salvador Dali
As Dali moved away from Surrealism and into his classic period, he began his
series of 18 large canvases, many concerning scientific, historical or
religious themes. Among the best-known of these works are The Hallucinogenic
Toreador and The Discovery of America by Christopher Columbus in the
Collection and The Sacrament of the Last Supper in the collection of the
National Gallery in Washington D.C.
In 1974 Dali opened the Teatro Museo Dali in Figueres, Spain. This was
followed by retrospectives in Paris and London at the end of the decade.
After the death of his wife, Gala, in 1982, Dali's health began to fail. It
deteriorated further after he was burned in a fire in his home in Pubol in
1984. Two years later, a pacemaker was implanted. Much of this part of his
life was spent in seclusion, first in Pubol and later in his apartments at
the Torre Galatea, adjacent to the Teatro Museo. Dali died January 23, 1989
in Figueres from heart failure with respiratory complications.
Excerpt taken from the: Salvador Dali Museum St. Petersburg, Florida: Commemorative Guide © Copyright 1982 Salvador Dali Foundation, Inc.
---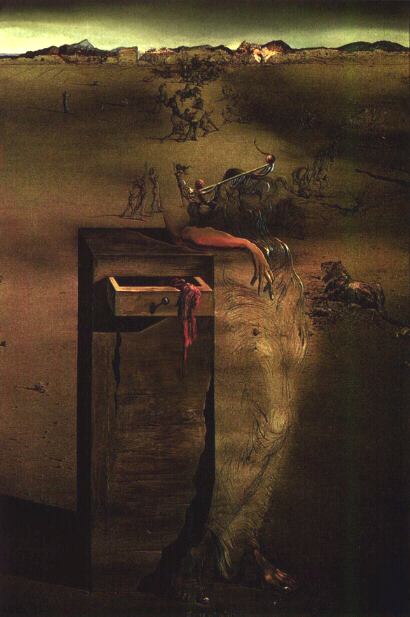 Spain, 1938

---
Dali's Psychic Force
By Don Estrella, Ft. Lauderdale, Florida
Salvadore Dali. Dali is eccentric. Dali is a genius.
Dali is a clown. Dali is bizarre. Dali is also mystic
and without our consciously realizing it, Dali has
always relied upon the psyche to guide his
paintings.
The world has long regarded Salvidor Dali as the
finest exponent of surrealistic art of this century.
They have, moreover, lauded his artistic
craftsmanship and technique, been amused by his
umoristic touches and forgiven his other light
erotic fantasies in the name of art. The art world
and the general public have never, however, taken
serious note of, nor looked intently enough with an
objective eye into Dali's compositions. The "inner
quality" or "heart" of Dali's painting, which he
refers to as the "paranoia-critica" is actually the
deep superconscious which Dali exhausts, bringing
these, his hyperthoughts onto canvas for us to
appreciate.
The "paranoia-critica" or hallucinatory theme is
actually Dali's psychic mind. Dali has the ability to
delve more deeply into it than most of us and bring
substance of it into our third dimensional reality.
For the sake of sensationalism (Dali being a clever
showman and salesman), employs other terms
rather than his "paranoia-critica" for want of
better expression of the force behind his portrayals.
Among them are his references to the cosmos:
"All my painting is only a portion of my
cosmogony..." his symbolic gourmandism and
cannibalism..."Awareness of reality by means of the
jaws"...and: "What does spirituality consist of?
Can it be eaten?" ...and: "The sublime
fundamental law of our Catholic, apolostolic,
Roman and Roumanian religion: To swallow the
living God."
The utterances by Dali, can, of course, be analyzed
In a myriad of approaches, as can interpretation of
the symbolism which sometimes masks Dali's
compositions. However, the "paranoia-critica" or
hallucinatory fine line between this dimension and
others, into which Dali lucidly stretches his mind is
the keypoint to his success and most indicative of
his constant touch with the psychic. Dali's
statements of plunging into his sub and
superconscious is, of course, just that. Our
superconscious is, most naturally, one of our most
immediate realms of the psychic.
Contemplating Dali's more serious works which
bear psychic influence appeared to come into
creation during his phase in the 1930s. We are
immediately attracted to the ethereal quality of his
works which other surrealists attempt to execute
but are unable to duplicate. His works are not mere
collages but in reality, a mirror of how our
thoughts and impressions are imprinted, infused
and entwined onto the skeins of time and space and
how they would appear if we were able to
photograph or record them for our physical, third
dimensional eyes for evaluation.
It has been stated that Dali, ill and elderly, was
suffering from years of strain through exhaustion
by his means of touching the super-psychic
consciousness for his paintings. This may be so.
Intent study of his work will realize not only the
symbolism but a veritable "photograph? of a
thought or a vision.
The Works of Salvador Dali
Viewing Dali's "Ecumenical Council," we see a
thought as it would appear, when summoned to our
minds from the superconscious psychic realm. The
impressions we receive during our thought
processes are intertwined with all other objects,
items or other thoughts relevant to that particular
prime or main subject on which we wish to focus. In
the "Ecumenical Council," the important feature
demanding attention which strikes us is the
spiritual theme or body of the Supreme Being, this
embodied as a naked male, superseding all through
the nebulous etheric haze, it emerges from a
classical alcove of the Vatican, seat of Christianity
for the Catholic. To the lower left of the Creator,
the vague face of a saintly personage whose body is
composed of a turmoil of crosses. To the right of the
Creator, the face and figure of the Christ is all but
lost in its diffusion, save but for the prominent
figure of the dove; the Holy Spirit above it. Below,
the Ecumenical Council in small proportion, tiny,
menial, humanistic, lost in methodical meaningless
tradition confuse the thought, scattering it
throughout and arises through the earthly planes of
the mountains and water at the lower right
foreground of the painting.
Gala, Dali's wife (whom he calls his Divine Twin),
symbolizes in a realistic, defined figure, holding a
cross,t he true spiritual soul in humanly form,
overshadowing the vagueness and confusion of the
Ecumenical Council. To the left, below, we find
Dali, looking directly, knowingly to us, his eyes
telling us of those, his prophetic and psychic vision.
Not merely his signature, but as the most vivid and
closest figure on the canvas, a third dimensional
one, facing the vision of this, his psychic thought.
lorraine@esotericworldnews.com
---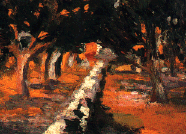 Hort del Llane, Cadaques (1918-1919 )
This is a pathway leading up to the summer home
in Cadaques Spain.
---
Here is an incomplete list some symbolization Dali used in his artwork:

Ant's symbolize a decay of whatever the obgect is they are on

Gag flies towards an object mean they will fight off or repel the object. If the gagflies are running away

from something they were unable to fight them off.

Daddy longlegs mean good luck or hope.

A child in a sailors suit represent Dali himself as a child, often you will see a man nearby (his father).

Soft watches (melting watch) shows Dali's inability of time to loosen the tenacious grip of memory on the

imagination.
---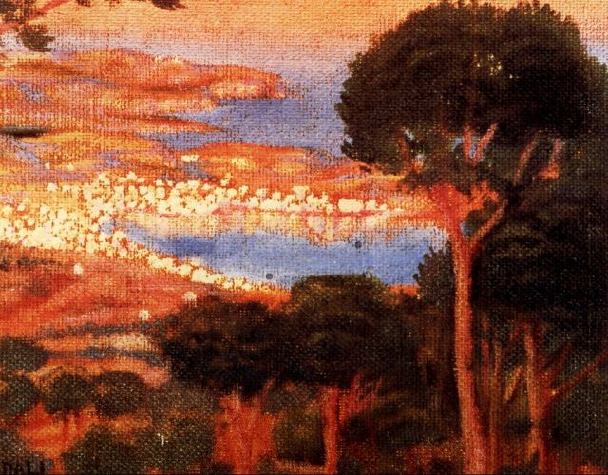 View of Cadaques with Shadow of Mount Pani, 1917
---
Dreams, Dreaming and Salvador Dali's Simulated Madness
Although most surrealist artist were influenced to one degree or another by Sigmund Freud's theories of dreams and the subconscious, none embrace his ideas so fervently as did Spanish painter Salvador Dali. Freud's The Interpretation of Dreams seemed to Dali a revolation, since for him it represented a scientific explanation for the torments and erotic fantasies he claimed to have experienced ever since childhood. His subsequent fascination with psychoanalysis at once affected his approach to his art.
But while most surrealist depicted the images from the subconscious - which Freud had defined as uncontrolled by conscious reason - in more or less lyric terms, Dali wanted to document them with scientific accuracy.
(More To Come...)
---

Where in the world are you from? Please Sign My Guestbook
To join in on the latest Dali discussion, or meet new Pen Pals in my chat room.
---
"Like real dreams, Surrealist images range from the
mildly puzzling to the bizarre."
---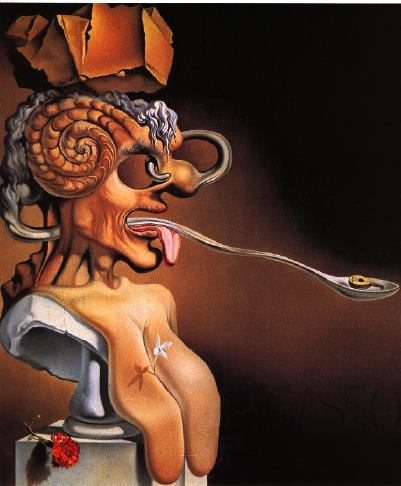 Portrait of Picasso, 1947
(something tells me Dali didn't like P. Picasso very much)
---
The Surrealism of Salvador Dali, who joined the Surrealist movement in 1929, is supremely realistic; his subjects tend to be nightmarish. His goal was to represent the world of dreams as vividly as possible, or as he explained, to employ the "paranomic-critical" method to make "portraits of hallucinations." By means of optical realism, along with vivid imagination, hallucinations like the one in Soft Construction with Boiled Beans: Premonition of Civil War are given the credibility of photographs.


Dali's Surrealism tends to provoke, even to shock rather than to disturb.
---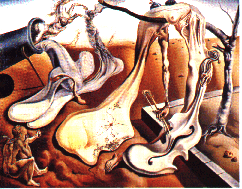 Daddy Longlegs of the Evening...Hope!

---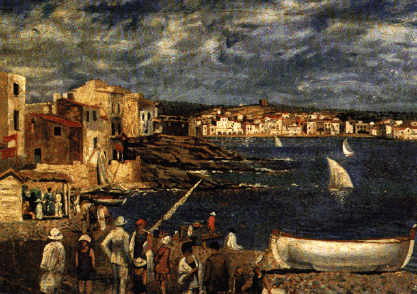 Llaner Beach in Cadaques, 1921
---

Geological Justice, 1936
---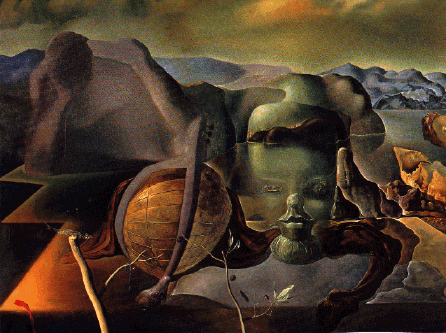 The Endless Enigma, 1938
Can you spot the Philosopher reclining, Mythological Beast, Greyhound, Face of the Great Cyclopean Cretin, Mandolin, Compotier, Figs on the table, and a Woman seen from the back mending a sail.
---
Sent to me Feb 3 2001, from VizeyeMarketing@aol.com
Dali's obscure comrade
Do you know that Salvador Dali had a very close friendship with an
African-American man who acted as Dali's rep., during the 60's. Reginald
Simmons represented Dali in NY, at the United Nations in 1966 where he
presented The Salvador Dali Cachet UNICEF design to the then UN Secretary
General Uthant. It is said that on that same occasion Basil Rathbone was
presiding at the presentation.
Who was this Mr. Simmons?
Mr. Simmons has represented Dali in Stockholm at the Konkst Academy and at
the Museum of Fine Arts Montreal Canada.
It occurs to me that during Black History Month it would merit some looking
into. Reginald Simmons' face and body parts are featured in the Dali painting
entitled The "Battle of Tetuan?" Mr. Simmons is depicted as the Moor that is
leading the battle against Dali, the Spaniard. He is still living. Mr.
Simmons has insight to Dali that few still living have, and has much to share
on his friendship with Dali. This could prove interesting, and this is a bit
of history that should be made known to the so called Dalinians and to the
black community for socio-educational and artistic edification. This to me
falls into the category of African-Americans who although instrumental in
matters of politics, exploration, science, religion and in this case the
arts, were kept in virtual obscurity.
Such as: Lewis Howard Latimer, Latimer was the only African-American member
of Thomas Edison's engineering laboratory.
Or Matthew Alexander Henson, who was the only African-American to accompany
Robert E. Peary as personal assistant, dog driver, and interpreter on
numerous expeditions to the Arctic.
Mr. Simmons is in the process of a Docu/Art documentary on Dali that will
give the viewer an introduction to the mind of Dali from the intimate
knowledge of a friend and comrade.
Your can write Mr. Simmons at:
510 Main Street Suite 1914
Roosevelt Island, NY 10044
---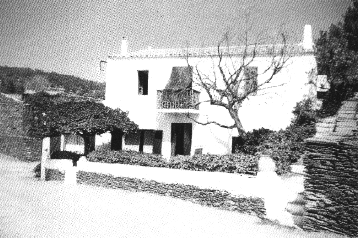 Dali's Family Home at Playa d'es Llaners, Cadaqués, Spain
---
Thanks for making this web site a very popular one. Help me keep food on the table by ordering a gift basket from my online Cafe. Mention this site and get an additional 10% off you total purchase.